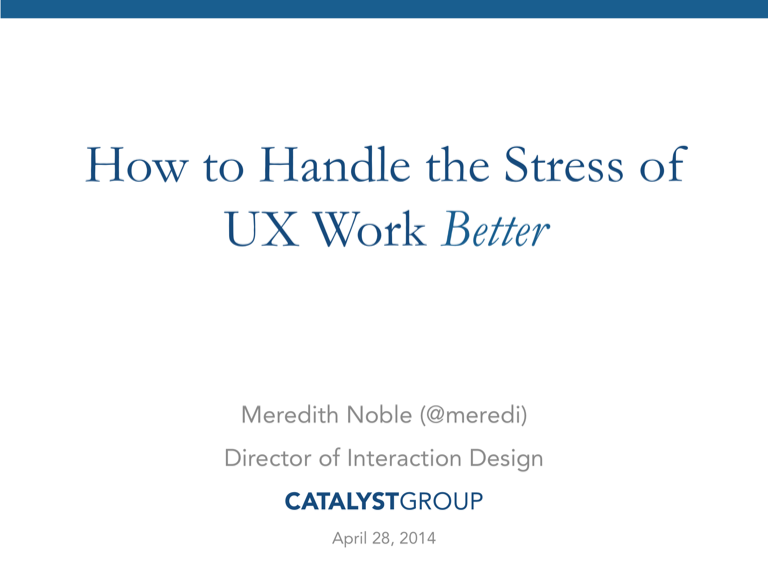 Hello. I'm Meredith. I work at Catalyst Group, a UX research & design firm in NYC.
I've been a UX consultant for 9 years, and my work sometimes stresses me out.
Okay, if I'm honest, it often stresses me out. And I'm guessing, based on the fact that you're sitting here in this talk, that your work just might stress you out a little bit too.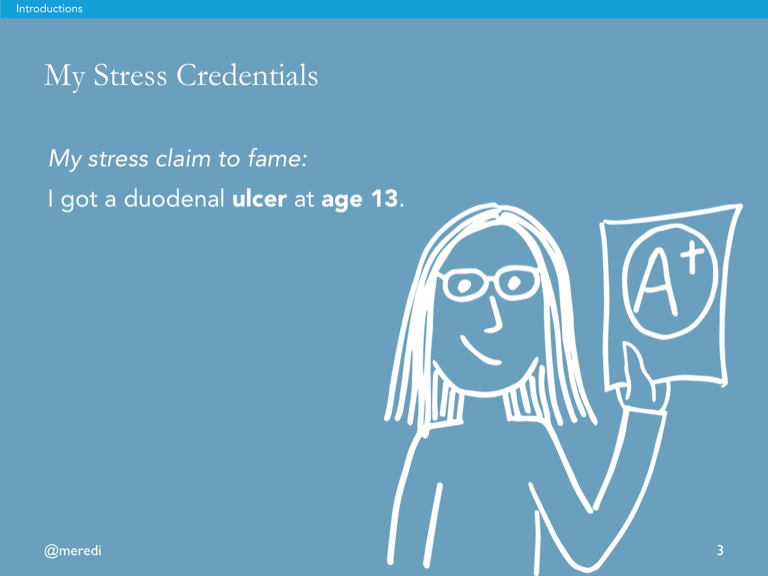 A lot of people start their talks with their credentials as a designer. I'm going to start this talk with my stress credentials.
My stress claim to fame is that I gave myself a duodenal ulcer at age 13. In other words, stress and I go way, way back.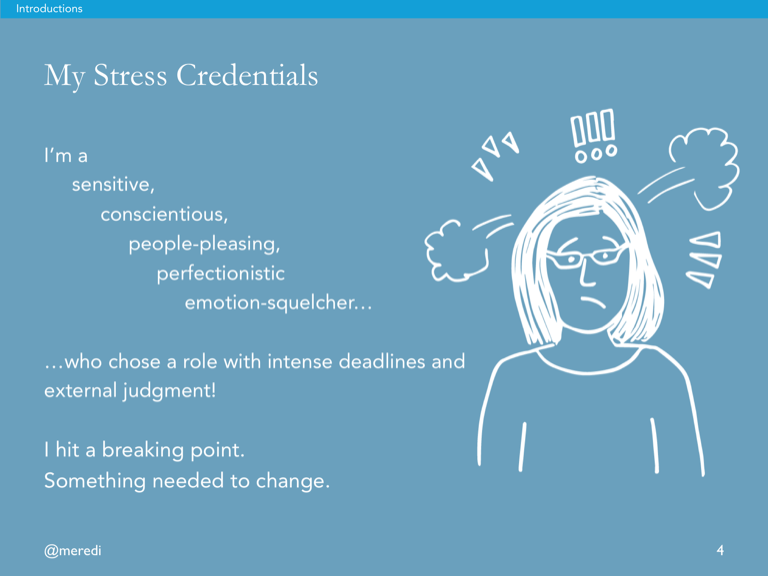 Now, all grown up, I'm still a sensitive, conscientious, people-pleasing, perfectionistic emotion-squelcher.
I also chose a role in the UX world that comes with intense deadlines and loads of external judgment, both from clients and colleagues.
Earlier this year I was so stressed out that I hit a breaking point. I was working overtime, really stressed about my projects and my people. I was depressed and overwhelmed, and my life consisted of going to work, coming home, watching TV and sleeping.
My husband intervened and told me that something needed to change.
But the problem is that I really love my work. I had to find a way to continue to be a UX consultant, but better handle the stress.
I started exploring the mind-body connection and the effects that thoughts and emotions can have on our bodies.
In this talk, I'm going to talk about what stress is, and why it's a problem in general. Then I'm going to talk about why it's specifically a problem for we UXers.
Then we're going to do some exercises. We're going to do a show of hands to find out how stressed we are as a group. Then we're going to make a list of all of the stressful things in our work lives. We're going to vote on what's the most stressful, and talk about how to cope with those specific situations.
Lastly, I'm going to talk about some more holistic ways to combat stress, and then I'm going to provide you with some resources and next steps.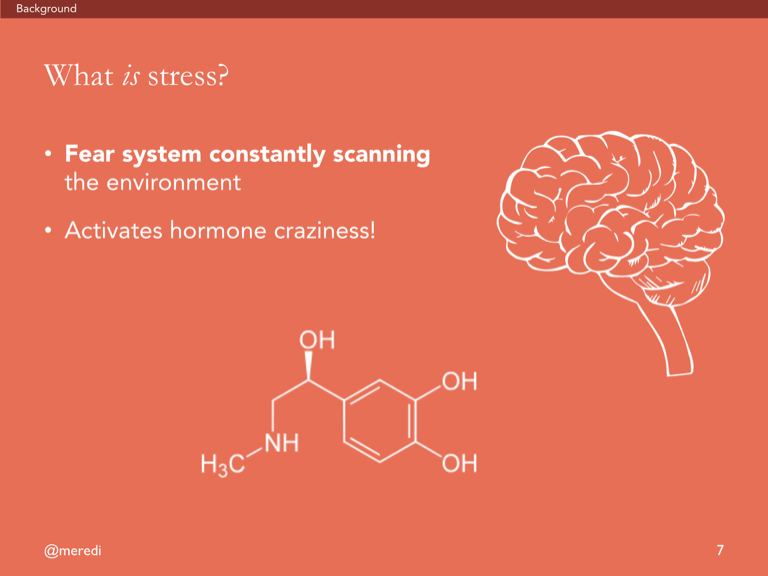 test
test
test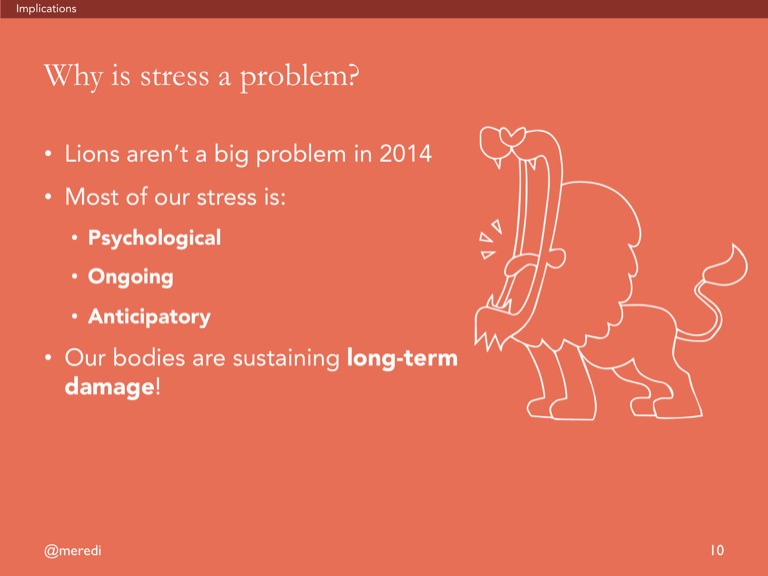 test
test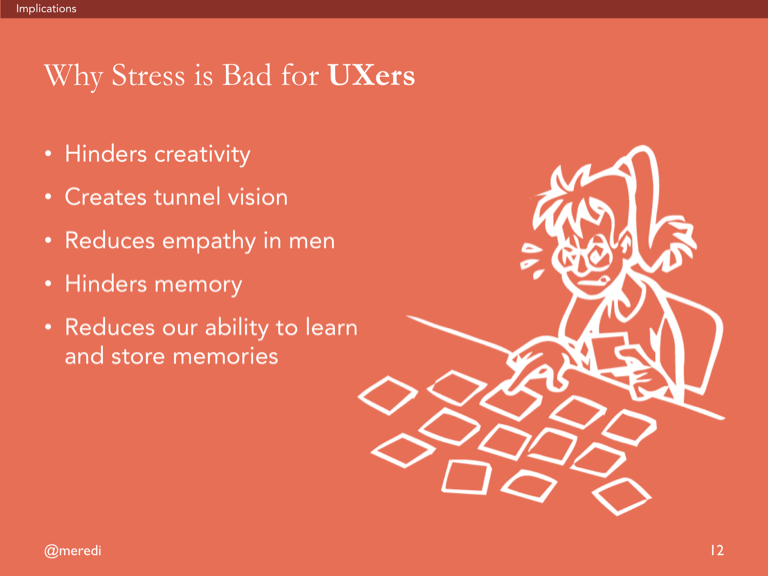 test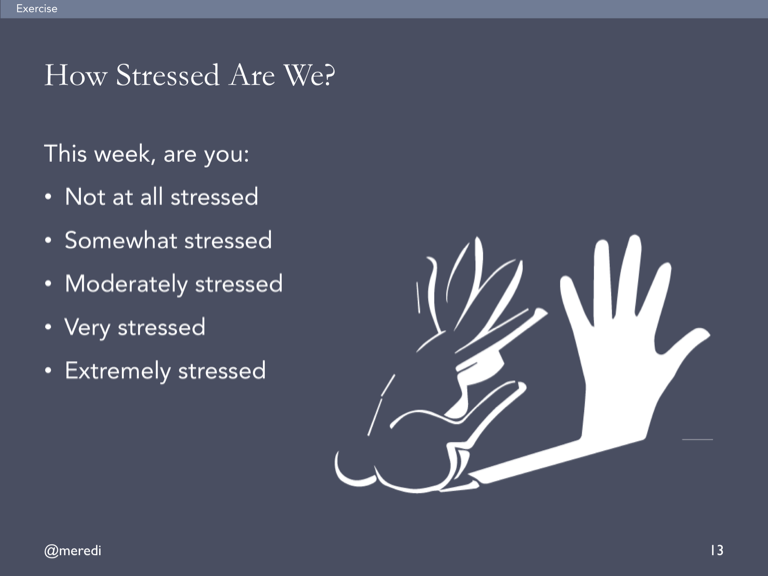 test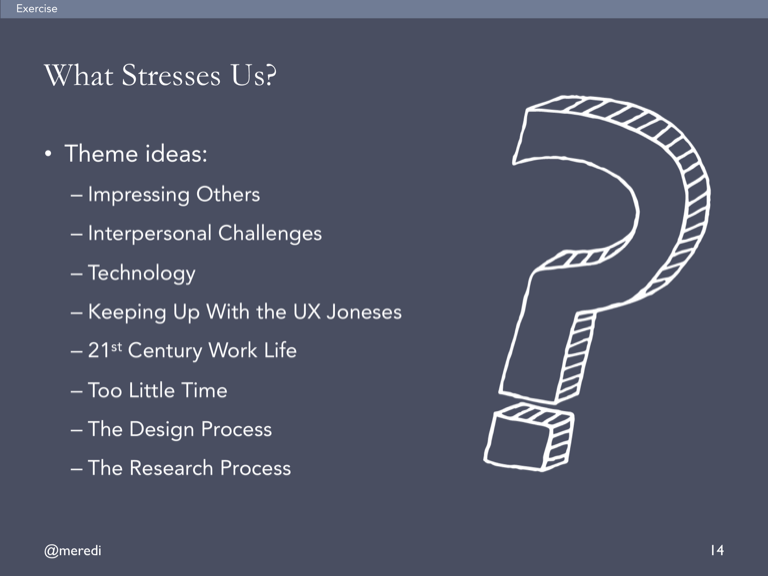 test
test
test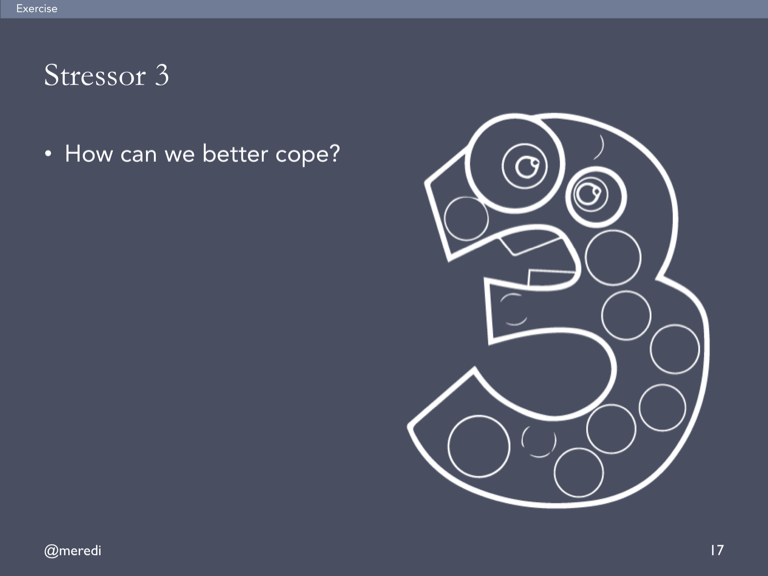 test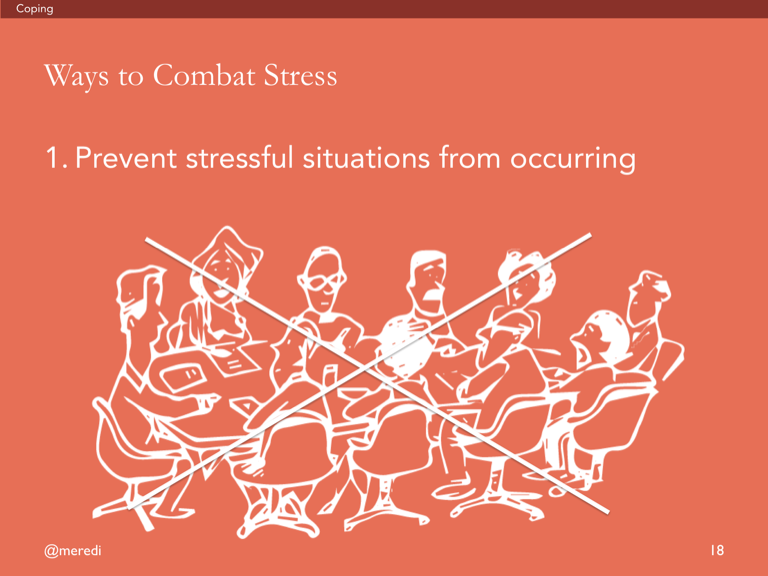 test
test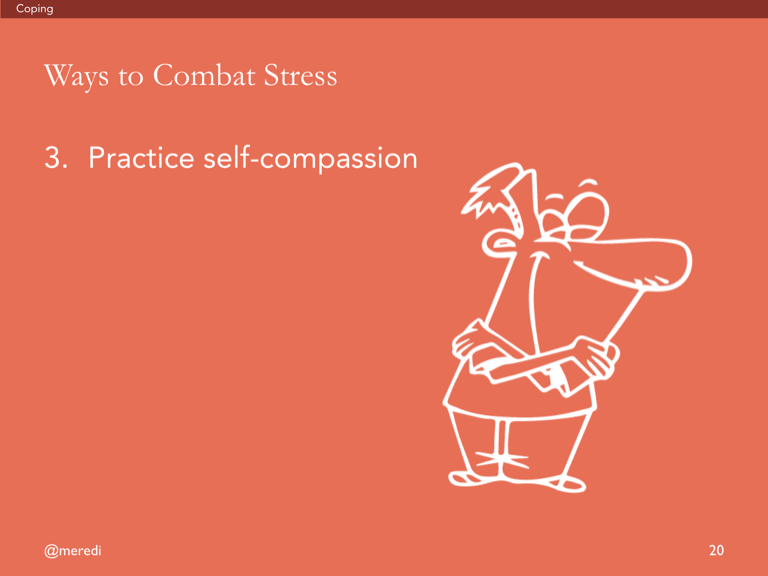 test
test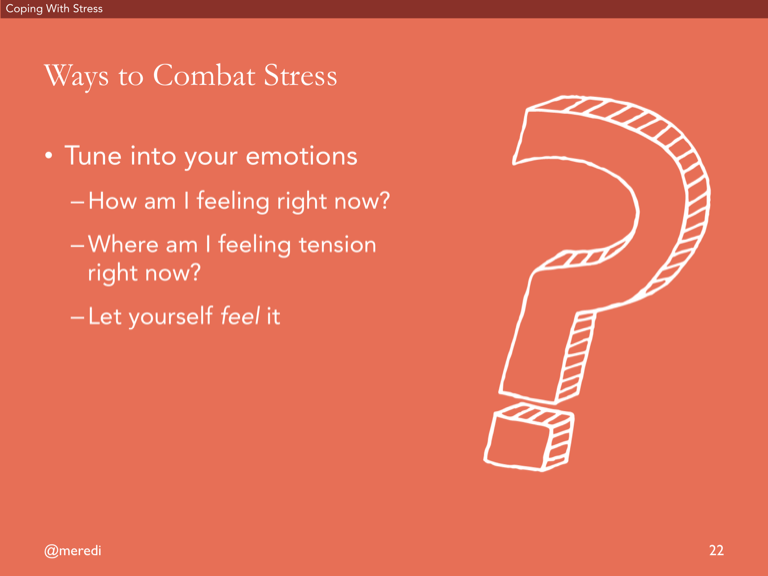 test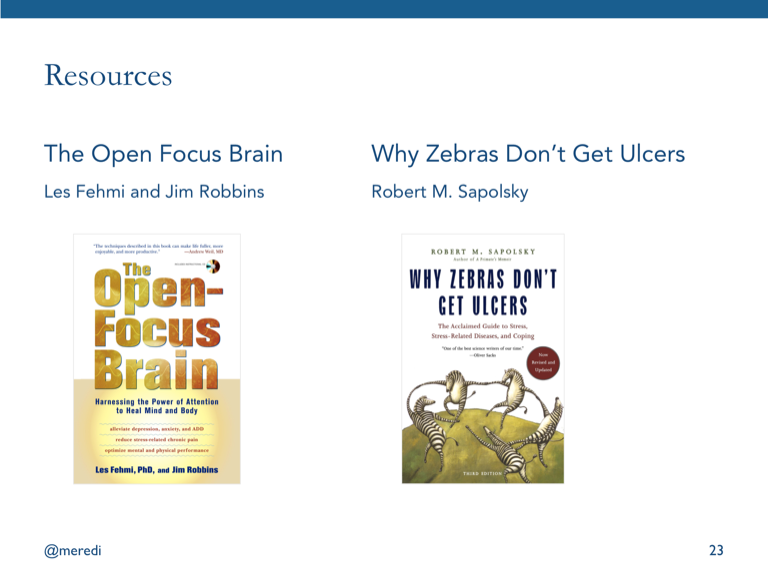 test
test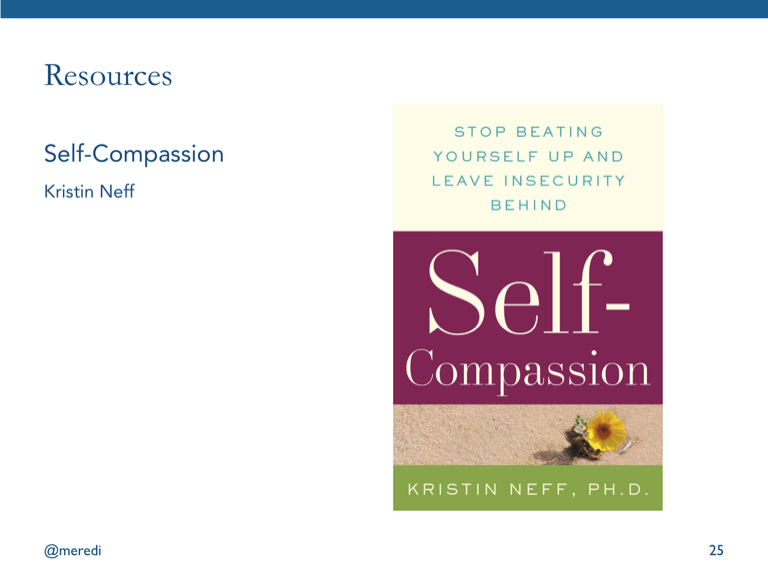 test
1. Consider running a 'stress workshop' with your colleagues. While I was preparing for this talk, I ran a couple of sessions with my colleagues where I asked them to brainstorm all of the things in their work lives that stress them out. We then grouped and reflected on their stressors, thinking about which ones they might have some control over and how they might go about alleviating them. They were really wonderful sessions, where we learned a lot about each other, and started thinking of ways to improve our work lives.
2. Read the resources to learn more. These are obviously just the tip of the iceberg.
3. Go and talk to other people here at the conference about your stressors. Tend and befriend :)